Blepharitis is the inflammation of the eyelids. It causes sore, red eyelids and crusty debris at the base of the eyelashes due to clogged oil glands in the area. A chronic condition, it's challenging to treat – but not impossible.
SYMPTOMS
Blepharitis develops due to bacterial growth and inflammation in the oil glands along the eyelid margins. It tends to be associated with other conditions, including seborrheic dermatitis, dandruff and rosacea.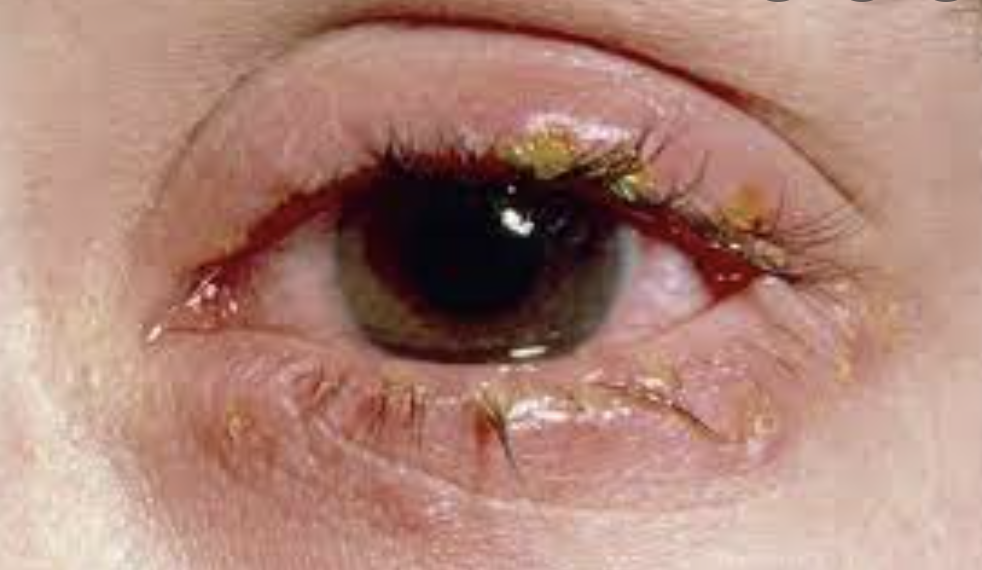 source:https://www.msdmanuals.com/en-jp/professional/eye-disorders/eyelid-and-lacrimal-disorders/blepharitis
Some of the more common signs and symptoms include:
-ITCHY, RED OR BURNING EYES
-REDNESS AND CRUSTING AROUND THE EYELID MARGINS
-A GRITTY, BURNING OR STINGING SENSATION
-SENSITIVITY TO LIGHT
-FREQUENT STYES (infected oil glands along the edge of the eyelid)
-EYELASHES THAT FALL OUT OR GROW ABNORMALLY
-WATERY EYES
If left untreated, blepharitis can cause a number of complications. Some patients experience excessive tearing, dry eyes, difficulty wearing contact lenses and chronic pink eye infections. In addition, injury of the cornea may occur due to the combination of constant irritation, inflammation, insufficient tearing and misdirected eyelashes.
As such, it's important to consult an experienced eye doctor as soon as you notice symptoms that are associated with blepharitis, so you can take steps to proactively manage the condition, keep symptoms at bay and prevent complications from developing.
Such steps include the use of artifical tears, eyelid hygiene, BlephEx treatment