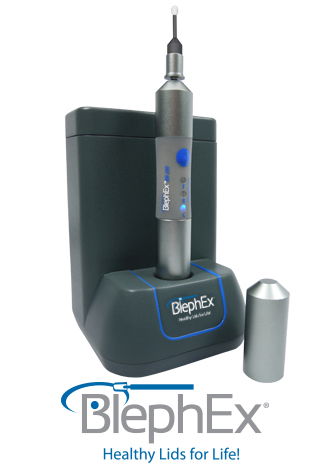 BlephEx is an entirely painless procedure performed in-office, which helps reduce or alleviate the symptoms of blepharitis.
This treatment removes excess bacteria and toxins living along the lash margins that cause inflammation and disease.
Utilizing the BlephEx handpiece, your ophthalmologist carefully spins the medical-grade disposable micro-sponge along the edge of the eyelids and lashes. A BlephEx treatment takes about 6 to 8 minutes to remove any scurf (flakes on the skin's surface), discard debris, and exfoliate the eyelids.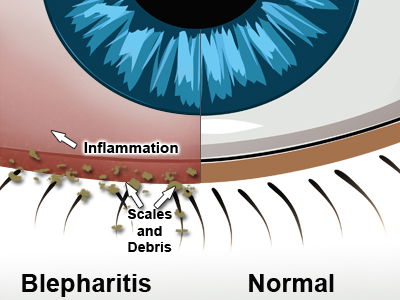 After the procedure, your doctor will provide maintenance instructions and options for nightly lid hygiene to ensure the eyelids stay clean and healthy.
The Magic of BlephEx Eyelids are challenging to clean, and without proper care, an overgrowth of bacteria, biofilm, scurf, and debris can accumulate.
The exotoxin-induced inflammation caused by this overgrowth may result in damage to the eyelids and tear glands.
BlephEx treatments provide a pain-free, practical answer for patients with eyelid inflammation by alleviating the signs of blepharitis.
Overall eye health and quality of life are significantly improved without the chronic and irritating symptoms associated with this condition.
BlephEx & Dry Eye Disease Approximately five million Americans over 50 suffer from dry eye disease, and this condition often goes hand-in-hand with blepharitis.
Symptoms of dry eye disease are very similar to blepharitis, and only your optometrist can properly diagnose your condition. Your routine eye exam is a powerful tool to help you stay on top of your visual health.
After thorough testing and a discussion about your medical history, your eye doctor can provide a diagnosis and recommend the next steps. BlephEx can be a solution for patients suffering from dry eye.
How Often Should I Have BlephEx Treatments?
BlephEx treatments should be administered every 4 to 6 months, depending on the severity of the condition. Routine care is essential for keeping bacteria to a minimum, and the prevention of biofilm development. Irregular treatments can cause biofilm redevelopment, resulting in a recurrence of inflammation and damaged tear glands.
How Quickly Does it Work?
Depending on the severity of their condition, patients will typically feel a difference in overall eye health immediately after treatment. Patients with significant damage to tear glands may not observe any changes to their condition for several weeks, and in some cases, multiple treatments may be required before they are fully healed. Following your optometrist's care instructions closely, a nightly eyelid hygiene regimen, and routine treatments can help prevent a recurrence.
What Are The Side Effects of Blephex Treatments?
There are no lasting adverse effects from BlephEx treatments, and any discomfort experienced post-procedure is generally mild and lasts no more than 24 hours. Some patients experience weak irritation and redness of the eyelids.

For further information don't hesitate to contact us